Apps for iOS devices
iPhone / iPad / iPod touch
All your passwords
Version 1.3
---
All your passwords allow you to easily store and manage your passwords and user's names.
Increasingly, we need to remember more and more differents passwords
With this app, you just have to remember only one password. This password protects the privacy of the data that you enter in the app.
Security
Data entered in All your passwords are encrypted using modern and secure encryption algorithms.
Access to the application is limited via password. Depending on the configuration, the automatic locking system requests you the password every time you try to access the application. In the configuration menu, it is possible to define a courtesy time. After leave the app, this is a period during which you can access to the app without enter your password (no more than 1 minute). This system facilitates you the consultation of information during the process of access/login to your services.
Additionally, All your passwords has anti-theft protection. With anti-theft protection activated, the application detects the malicious attempts to access (caused by the loss or theft of the device). When app detects this attempts to access your account, it destroys all stored data.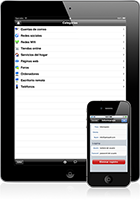 Compatibility
Compatible with:
- iPhone
- iPad
- iPod touch

Requires iOS 4.2 or later.
Supported languages
English, Arabic, Bokmål, Norwegian, Chinese, Danish, Dutch, Finnish, French, German, Italian, Portuguese, Russian, Spanish, Swedish and Turkish.
---
© 2012 - Pertusoft. All rights reserved.
iPad®, iPod® and iPhone® are trademarks of Apple Inc., registered in the U.S. and other countries.